so we had a little cash coming our way and I had stashed and saved some mula thinking that DJ and I both would be out of work for awhile when we moved to Georgia... no seriously. I had planned on being unemployed for at LEAST two months... but the employment Gods smiled upon me and blessed with an amazing job - my first week in Georgia... so we have INCOME coming our way very soon... [hooray!!] so I treated myself [and my love] to a little spending... I needed some new clothes [bye bye Berkshire plaid and bulky sweaters - hello SPRING!], here are some of my favorite recent purchases....
I went into Old Navy to buy some cheap jeans [they do the trick and I plan on losing the massive amount of winter hibernating weight that I've gained soon and I refuse to spend money on jeans that will NOT fit me in a month... no really, they won't - I've decided] and found these super cute and flirty tops... I might have bought three...
I just wish they had the purple one in my size, I love that color!
Ann Taylor Loft = my shopping downfall. Especially for work clothes, I got a great deal on these because some were already marked down/on special AND my mother-in-law had a 20% off coupon so I saved an extra $70 on my total, score!
I got a super cute lightweight sweater, an adorable girly cardigan, cute camis, and an amazing pair of denim trousers! Of course, I can't get the pictures off the internet and I'm at work so you'll have to make do with the links [oh technology]....
...AND today at Loft you can get 25% off cardigans!
I might have also gotten three pairs of shoes from DSW [oops!]...
these adorable Enzo Angiolini peeptoe heels...
and some adorable roxy casual flats for weekend wear...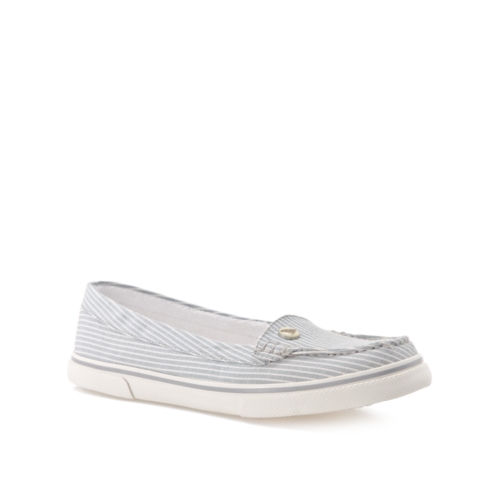 then we did a little online shopping and from UrbanOutfitters I got a [what looks] super soft grey hoodie for me... and of course a grey hoodie for DJ...
[don't worry they're not exactly the same, we're not that bad come on]
and for my love we also bought...
we stocked up on a few of these, they were super soft!
other than that I got a few of the simple v-necks from target for me and two gator [barf] shirts for my love and a new UCF shirt for me... super excited for those to come in as well as our other online purchases... and lets be real, I'm so excited be near actual stores again and to not HAVE to shop online [i.e. like in the berkshires]... I live near a sephora - this is amazing, I don't have to justify spending $50 everytime I need a little thing just to get free shipping... I can actually GO to the store.
but, alas, I think that we have reached our shopping quota for awhile [at least until I lose a little weight, my reward for losing 10 lbs will be new jeans, exciting!]. now onto saving for a new macbook... time to pinch those pennies! :)