if you've been a bridesmaid you know the all the "fun" that is the bridesmaids dress... now, personally, I have to say I've been quite lucky - I actually liked the both the dresses in the weddings I've been in!
lindsey & phil's wedding 6/27/09....
kelly & erik's wedding 2/27/10...
and seriously, my bridesmaids cannot complain, their dresses were adorable, had pockets, oh and did I mention they were like $60 on sale at white house black market [no altering!] -
I know, I'm the best bride ever.
and yes, great minds think alike... lindsey, kelly and I were all nice brides with the extremely re-wearable black bridesmaids dresses! now onto the horrors... there are some not so great bridesmaids dresses out there...
there are no words for this mess...
oh man, I'm scared to even think about what the guys are wearing? orange overalls anyone?
go vols? go tigers? your call.
come on, you can't talk about bridesmaids dresses without a 27 dresses reference [which I really want to watch now!]
someecards never disappoints...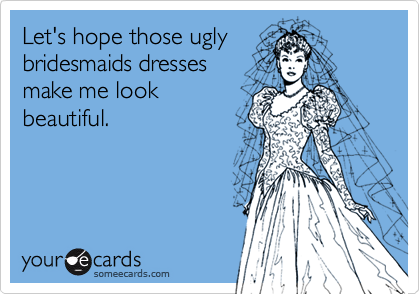 not bored by this post? get excited, TLC has a new show coming out - Say Yes to the Dress: Bridesmaids Edition tune in on July 8th, 2011 at 1opm! from the ads on TLC it looks like it is going to be quite entertaining!! I can't wait! :)